Bones
by Jonathan Kellerman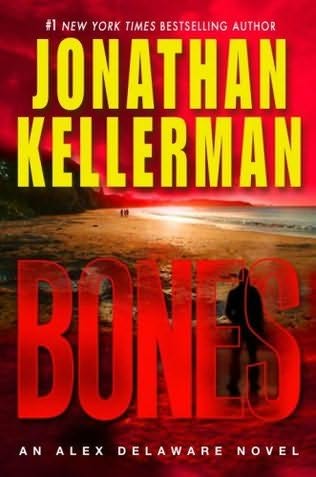 Reviewed by Coral
---
When Chance Brandt gets a phone call about a body in the marsh, he doesn't exactly care. The only reason he's working at Save the Marsh is because he was caught cheating on a test, and his parents agreed with the principal that he'd do community service instead of having the incident on his permanent record. Thankfully, Chance likes to brag, and the story makes its way through his friends to someone who takes it serious enough to notify the police.
Selena Bass' body isn't hard to find; it's been left for someone to find. But Selena's isn't the only body they find, three other Jane Does are soon found buried in the marsh. Digging into Selena's life soon leads them to a suspect, with a record, who rabbits almost immediately.
Now Milo, Alex and rookie detective Moe Reed must come up against a wall in the form of friends and a determined lawyer, who all refuse to believe the kind-hearted man they know is a psychopathic killer. So who's right? The friends who see a troubled but innocent man, who has been railroaded by the system in the past? Or Milo, Alex and Moe, who see a criminal hiding behind a kind facade?
I enjoyed this book a lot.
I liked the mystery, and not just because the random guess I made ended up being mostly right. I'm glad that, for whatever reason, Kellerman has kept most of his recent books pretty simple in terms of whodunit, and not the complicated everyone is involved conspiracies that seemed characteristic of the books from the middle of the series.
I liked Detective Moe Reed and Private investigator Aaron Fox, which is good, because I think they're going to be the main characters in Kellermen's next book, True Detectives. It's just that I don't think the series needs new characters, because a couple of the existing characters are criminally underused, but at least they are much less annoying than Petra.
I also liked that there weren't a lot of Alex-Robin scenes.
And Milo and Rick shared a scene and spoke actual words to each other!
Which brings me to the things I didn't quite like in the book. The first being the scene between Milo and Rick, mostly because it seemed like the words spoken between them were rather harsh. They've gotten so few scenes together over the course of the series, that I don't really know anything about them as a couple. In a lot of books, Milo has described them as going through rough times, he's been annoyed with Rick for doing volunteer work, giving him health advice, and for wanting Milo to stand up for his rights, but he's also said that he and Rick are married without the paperwork and he was miserable when Rick left him temporarily to vacation alone in an early book. Without that many scenes to draw comparisons with, it's hard to know if this was normal banter for them, but to me, Milo's tone seemed harsh. Which is a shame, because it's obvious there's love there; Alex observes how visibly relieved Rick is when Milo walks into Alex's home after being unreachable on his cell for a bit. I still wish there would be a story line in a future novel exploring them a bit more, maybe with Rick helping out on a case, or something.
Which brings me to the second thing I didn't like about this book: Rick not wanting to hear anything about the case. Now maybe it had something to do with it being a double date night out with friends, but I don't understand why he was so reluctant to hear details about the case in this book, when I remember him liking helping Alex during Obsession.
Lastly, there were some places in the book where I just didn't like Milo and Alex and how they were treating the investigation.
Grade: B