Compulsion
by Jonathan Kellerman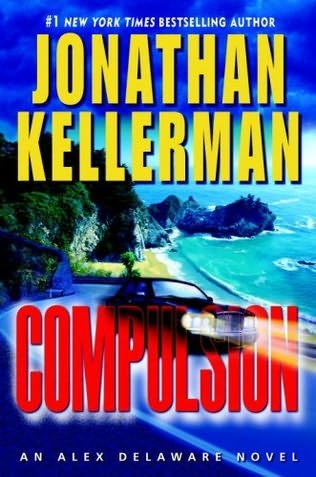 Reviewed by Coral
---
In the first chapter we meet Kat Shonsky, who runs into some car trouble and accepts a ride from someone who isn't what she appears to be. But enough about Kat for now - because it sure feels like we don't get back to her for a while as Milo and Alex are dealing with a couple of cases this time round.
There's the convicted killer about to be executed in Texas trying to stall his death by confessing to crimes across the country, including the murder of Antoine Beverly, from L.A. It is up to Milo and Alex to investigate these claims, to see if there's any possibility that the killer's telling the truth.
Besides this case, Milo and Alex have also been called in to help Sean Binchy, a rookie cop who worked with Milo in Homicide before being moved over to Auto Theft. After the stolen car from his latest case, a Bentley, has been recovered, Sean notices a stain that may or may not be blood in the car. Suspecting that there may be more at play than a simple car theft, Sean turns to Milo for some reinforcement.
Milo and Alex are also working on the murder of retired school teacher Ella Mancusi, stabbed to death in front of her house as she went to get the morning paper. But searching for Ella's killer unexpectedly leads Milo and Alex back to the possibly blood-stained Bentley and to Kat Shonsky.
Now, it's a race against time to find the killer, before they strike again!
I enjoyed this book; it was a nice and easy read, though I did have a couple of issues with it.
There were some potentially interesting side stories that Kellerman didn't explore that I felt were just wasted opportunities. At the beginning of the book they mention Milo recovering from his gunshot wound - which I think happened in the last book - and it sounded like he might be suffering from depression. But that went nowhere. Instead we get a stupid side story about Robin and a client who may or may not have feelings for her. Boo!
The Kat-maybe-blood-stain-Ella mystery was good, although I found it a little slow paced at the beginning. And it was a little weird how they just honed in on one suspect right away, to the exclusion of all other theories.
I also liked the Antoine mystery, even though I wished it would have ended with a little bit more justice being served.
Grade: B