Deception
by Jonathan Kellerman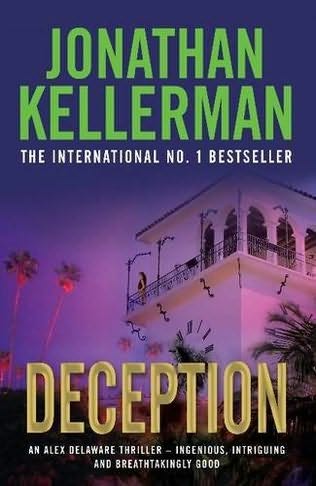 Reviewed by Coral
---
Elise Freeman's body is found in a bathtub full of dry ice, but with no obvious signs of violence. Amongst her possessions is a DVD she made accusing three of her fellow teachers at a prestigious private school of prolonged sexual harassment.
The case is given to Milo, but almost immediately his hands are tied by the bureau's red tape. Try not to implicate the school. Don't accuse the teachers. Only brief interviews allowed. Don't contact any students or other faculty without permission. Concentrate on her boyfriend because that's what the statistics say.
With all of the obstacles in their path, can Milo and Alex solve Elise Freeman's murder?
I enjoyed this book, but I felt like it could have been a better story if it had been told from Milo's point of view.
There was this part of the story where Milo's actions didn't really make sense to me - he's had hard cases before, he's had to deal with red tape and cover ups before, so his reaction confused me. I feel like if the story was told from his point of view I would better understand what was happening in his mind and that moment and why he reacted the way he did.
That, plus there's only so much of Alex doing internet searches that I can take. Milo is such a fascinating character but he hasn't really been explored the way he could be. Even at the beginning of this book, when he and Alex are talking about couples, and how people end up with partners they feel they deserve and Milo says, well then we shouldn't explore what that says about Rick's (Milo's lover) psyche. And then, back to Alex. Why can't Milo get a book where we can explore feelings like that instead of focusing on Alex and Robin?
Other than that, the book is pretty much a standard Jonathan Kellerman book. I did enjoy that someone actually made a comment about Alex being involved in the investigation, because I don't think it always makes sense.
A minor annoyance, why does Alex need to prep Milo for an interview? After so many years on the job, I think Milo should know what questions to ask a suspect and how much information he should or shouldn't give away.
Grade: B