The Forbidden Land
by Kate Forsyth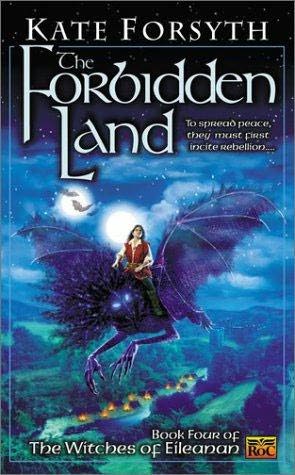 Reviewed by Ruby
---
Finn, from the League of the Healing Hand, has been separated from her comrades for the past five years. It was discovered that she was the missing heir to one of the powerful ruling families and whisked away to learn to rule. Unfortunately for all parties concerned, Finn the Cat has no interest in ruling. She was raised as a thief and is at the end of her rope, being locked in the castle, while her friends are having adventures. To make matters worse she does not get along with her mother or her cousin, and her father is always away, fighting of invaders.
Then she is thrown a lifeline. Her friend Jay, also of the League of the Healing Hand, has come with Dide and Enit. They have a message from the Righ. He is in desperate need of her services. Happy to escape the castle, Finn agrees. Unfortunately her cousin is sent along to keep her in line.
They meet up with Lachlan and she is given her top secret mission. She must journey into the forbidden lands of the Bright Soldiers and break into a prison where she must rescue a prophet. With his help they plan on inciting a rebellion against the Assembly and end the war between the two lands once and for all.
The series is starting to pick up again, thankfully. It still has not reached the greatness that was the first book, but it's moving in the right direction. At least in this book there was only one plot line to contend with, not like all the others. There were fewer characters, thankfully, so I managed to keep most of them straight and the new characters actually had personality. Unfortunately it was a bit predictable. But I hardly did any skimming.
Grade: C