Frozen
by Jay Bonansinga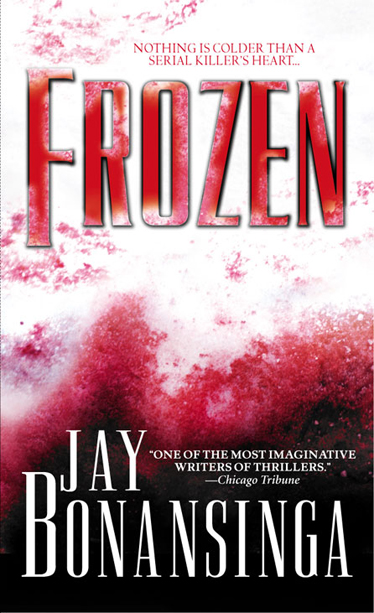 Reviewed by Coral
---
Ulysses Grove is the F.B.I.'s best profiler, solving seemingly impossible cases with only the barest hint of a clue. But, at the moment, he's not having the best time of it. Still mourning for his wife, he's getting nowhere on his latest case, a brutal serial killer dubbed the Sun City Killer. It isn't long before he finds himself burnt out physically and mentally.
Deciding that what Ulysses needs most is a vacation, but knowing that he won't go willingly, his boss sends him off to Alaska, where the discovery of a 6000 year old, frozen mummified corpse, showing signs of having been a victim of foul play is causing quite the stir in the archaeological community. He'll be working with journalist Maura County, who wants to write an article on the profile of a Neolithic killer.
But the moment Ulysses looks down on the mummified corpse his whole world changes, because the way in which the mummy was murdered matches, exactly, the signature of the Sun City Killer. But how can a 6000 year old mummy hold clues to catching a serial killer? And how many more people will he kill before he can be stopped?
When I first read the back of the book I hoped that the book wouldn't veer off into the paranormal-supernatural realm, because it seemed too easy. For a while the book seemed to be avoiding that path but then at the half way point it was suddenly all about the supernatural aspect of it. Should have realized it was coming. I mean, when you reveal who the killer is with half the book left to go, what else was going to happen to fill up the remaining pages?
I hated the attraction that developed between Ulysses and Maura, because it was so predictable. I also wish that someone would write a single woman as something other than desperate.
Also, I'm pretty sure there were a couple of things wrong with the archaeological/historical facts mentioned in this book. What would Sumerian writting be doing on a person in Alaska 6000 years ago? Plus, the first Sumerian cites were founded 6000 years ago, not 4000 years ago, which sort of negates the line about people in the mummy's time not having specialized professions yet.
This book really wasn't all that good, although the identity of the killer wasn't too obvious. Too bad it couldn't stay away from the whole conspiracy paranormal angle.
Grade: D