The Hallowed Hunt
by Lois McMaster Bujold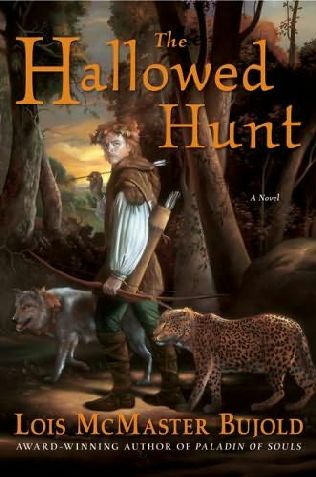 Reviewed by Coral
---
This is apparently the third book in a trilogy, though from the summaries of the first two books, I am not sure that this book follows them very closely chronologically wise. Maybe reading the first two novels would have set up the world better so that this book wasn't as hard to get into. How does this keep happening to me?
When Ingrey is sent to escort the woman who murdered Prince Boleso he doesn't expect to find someone suffering from the same curse as he does. Lady Ijada accuses the dead prince of attempted rape and sorcery, resulting in the spirit of a leopard being bound with Ijada's soul. Having had the spirit of a wolf bound to him as a child, and only surviving because the Temple granted special dispensation after guaranteeing that his wolf was bound, Ingrey understands how dangerous a position Ijada finds herself in. Yet he cannot help but be drawn to her.
Unfortunately for them both, something much greater is at play. With the king on his deathbed, someone is determined that Ijada doesn't live to see her trial. But who is behind this? And what are they after?
This book took me so long to get through. It was all talk. Pages and pages of exposition delivered as two or three characters sit down and talk with each other. Main plot points discovered through dialogue. Even when there was some action, it somehow came back to talking! And what wasn't talk was Ingrey's internal monologue about who wasn't trustworthy or who was lying instead of, in my opinion, showing us through these other character's actions. I didn't get how Ingrey was coming to some of his conclusions most of the times.
I also wish that we could have had some chapters with a different narrator than Ingrey. By the end, I felt he was truly just a completely unlikable character.
I was also disappointed with the way the book ended. So much of the beginning was spent with Ingrey worrying about Ijada's trial but at the end the book veers completely in a different direction, to a conclusion seemingly randomly revealed through talking some chapters earlier.
Grade: F