The Heart of Valor
by Tanya Huff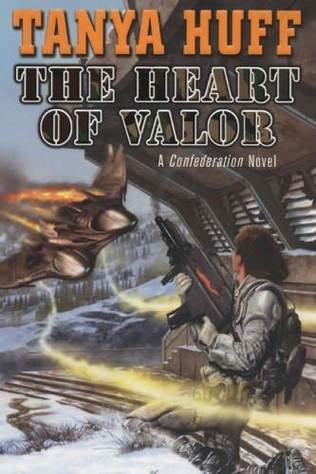 Reviewed by Ruby
---
After two perilous missions that didnít go according to plan, and a promotion, Gunnery Sergeant Torin Kerr wants nothing more than to get back to her unit and do what she does best - fight a war and keep her people alive. Unfortunately, that isnít going to happen anytime soon, as she is stuck in briefing after briefing discussing with various officers and whatnot exactly what happened during those two missions.
As it turns out a former colleague of hers, Major Svensson, has recently been de-tanked after having the majority of his body destroyed in his last battle. Now with his body regrown he is going to Crucible- the planet used by the Corps to train new recruits- to field test it and he wants Torin to accompany him. After endless days of briefings, Torin jumps at the opportunity to be his aide during the twenty day run, even if it is simulated battle.
Almost immediately after landing, someone has changed the simulation and now Torin finds herself responsible for a doctor, a newly rebuilt major and a platoon of young recruits as the entire planet seems to be trying to kill them.
Itís odd how I am not really a fan of science fiction books and usually donít like war books, and yet with this series- a science fiction military series- I can hardly put the books down.
I love the characters; I love the plot; I love the dry wit thrown into the mix; I love the twists and turns; there isnít much I donít like about this book. Or the entire series for that matter. There are still endless characters for me to remember but after reading George R.R. Martinís Song of Ice and Fire it doesnít seem like such an undertaking anymore.
All in all another excellent read.
Grade: A