Last Seen In Massilia
by Steven Saylor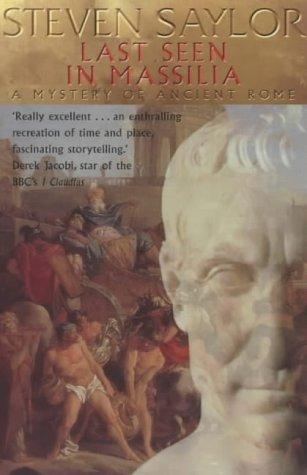 Reviewed by Coral
---
This is the 8th book in the Roma Sub Rosa series. I would recommend, for anyone wanting to read this series, start at the beginning, with Roman Blood. Plotlines tend to carry over the books (political intrigue and machinations as well as marriages and births of Gordianus' family) and the author is not shy about discussing past cases, ruining the mystery for those who've jumped ahead.
This book takes place in Massilia, during the Roman civil war between Julius Caser and Pompey. Massilia's ruling council have sided with Pompey and the city now finds itself under siege by troops loyal to Caser. While Massilia's council wait desperately for re-enforcements from Pompey, Gordianus and his son-in-law Davus sneak into the city, determined to find the truth behind the rumors of Meto's death.
While investigating they run up against Massilia's viper's nest of exiled Romans - some familiar and some new faces - of questionable loyalty, Massilian suspicion and ancient tradition, and a suicide that may be murder that Gordianus cannot ignore.
Steven Saylor is a truly gifted writer. There is none of the confusion Colleen McCullogh's books inspired as he works to bring alive the world of political intrigue that was Ancient Rome. Nor does he shy away from slash, at least recognizing its undeniable presence in Ancient Rome, in a way that's not as insulting as McCullogh seemed.
Aside from that, the mystery plots are always well written, certain to leave you guessing (I'm inept at solving these things, so I hope that's not just me), especially in this book, with an absolutely shocking ending that I never saw coming.
Grade: A