McClairen's Isle: The Passionate One
by Connie Brockway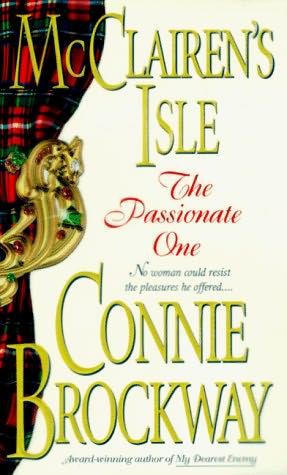 Reviewed by Coral
---
Now I don't read all that many romance novels, mostly because I'm afraid they'll read like bad self-insert/Mary Sue fanfiction, so I'm not sure exactly what it was that made me pick up this book, but I'm so glad I did.
I mean, okay, the characters are your typical romance fare: rogue who just needs a good woman to tame him (Ash) and a woman torn between the safe life she had before or chasing after the fire the rogue has awakened in her (Rhiannon). And, of course, they encounter many roadblocks and misunderstandings that threaten to keep them apart forever but which, and I don't want to spoil things for you, but it's a romance novel, they'll eventually overcome to live happily ever after. Seriously, has there ever been a romance novel where the main characters have not found happiness in the end?
What makes up for all of this, at least in my eyes, is the McClairen/Merrick family intrigue. Ash doing battle against his evil father for his brother's life; his sister, Fia, trying to learn the truth about the brothers she barely knows and the father she adores.
The writing is top-notch, as it draws you into the story and the characters' lives. It's a guilty-pleasure, escapism story, and I don't regret reading it for a second.
Grade: A