The Second Summoning
by Tanya Huff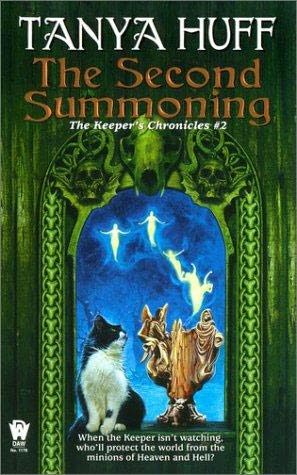 Reviewed by Ruby
---
Claire and Dean (and Austin) have been on the road going wherever the Summons take them. It's been a hectic few months, but with Christmas comes a pause in the Summons, allowing Claire and Dean to go to Claire's home for a few days. As they are relaxing and Dean is meeting the family, a series of random events actually trigger an angel to be born in to the world.
Samuel, the angel, gifted with higher knowledge arrives in Ontario for a purpose, or so he assumes. Unfortunately he doesn't know what it is, so he wanders aimlessly trying to do good.
However, since the universe is in a constant struggle to maintain balance, a demon is also born into the world. With the angel blocking the Keepers from seeing her, Byleth, the demon, tries to do as much damage and destruction as she can. Unfortunately they have entered the world as teenagers and unbalanced hormones confuse them both.
Diana, Claire's younger but more powerful sister feels that her the part she played in all this compels her to try and help. And by helping I mean causing problems for Claire but generally trying to do good.
This book had much the same feel as the first one. It was a little slow and most of it involved Claire and Dean's relationship or Byleth and Samuel's wanderings. All the actions were, once again, relegated to the last chapter. At least the earlier chapters had an impact on the results.
Grade: B