The Skull of the World
by Kate Forsyth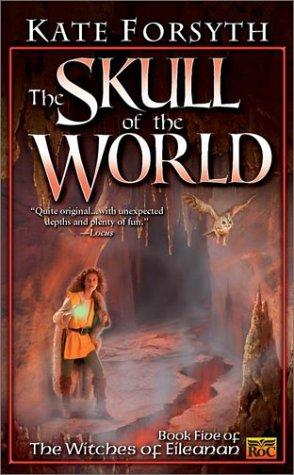 Reviewed by Ruby
---
This is the fifth book in Kate Forsyth's series. It is also the one that took me the least amount of time to read. That is because very little happened. It is the exact opposite of earlier in the series, where there were so many plots and characters that it was hard to keep straight what was happening. In this book we follow Isabeau as she is learning the ways of her father's people. It has been decided that she is now worthy enough to go on the journey to the Skull of the World to find her name. On the way she faces many obstacles including trolls frost giants and an avalanche, but she also discovered her Talent. She has the ability to transform herself into any animal.
Armed with her new skills and new name, she heads back home to finish her studying and become a sorceress. Only Lachlan still hates her and there is a spy in the palace and Margrit kidnapping Neil and Donncan.
I still, for the life of me cannot figure out why Lachlan hates Isabeau. The reason he gave to Iseult, when she got pissed at him always thinking the worst about her twin was that he hates her because he can't love her. I don't get it.
Anyway there were two new characters introduced but neither of them were interesting. There is Nila, a Fairgean prince and his secret lover, Fand, a daughter of a human slave and a Fairge. It's probably setting something up for the next book, but their story line was dull.
The entire book was dull, but at least it wasn't bad. Just dull, and thankfully short.
Grade: C