Smoke and Shadows
by Tanya Huff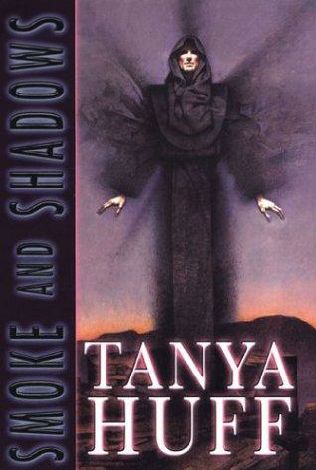 Reviewed by Ruby
---
Tony Foster is working in television. He is an assistant production manager, whatever that means, on the television show "Darkest Night". It's about a detective vampire. Which is very ironic to Tony, because he used to date a vampire, and helped out with many supernatural mysteries with said vampire and a police woman back in Toronto. Now in Vancouver, Tony is trying to make a new life for himself, only the supernatural world doesn't seem to want to leave him alone.
There are shadows that aren't acting like shadows are supposed to act. They are killing people and possessing others. And there's a wizard who works on FX in the basement. When the straight, male co-star of the show start to come on to him, Tony knows that something isn't right. Seeking help from the wizard, Tony is upset when Arra refuses to help him, considering that this is all her fault since she's the one who opened the gate from the otherworld and came into this one, allowing the Shadowlord to follow her.
With the help of Henry, Tony's ex-lover/ 450 year old vampire, they 'convince' Arra to help. A little. But since the gate opens every twelve hours, and half the time it's during the day, and Arra refuses to go anywhere near the gate, it's up to Tony to stop the minions of the Shadowlord from entering into this world, or returning with the acquired information, while trying not to get fired.
This book will probably make a lot more sense if you've read Tanya Huff's Victoria Nelson series first, because you are introduced to both Tony and Henry. I mean, its not necessary, but it would help.
The story itself was really good, I expect nothing else from Tanya Huff. The only problem I had was that there were too many secondary and tertiary characters that I couldn't keep them straight. It got a little confusing. I also found myself wondering most the time if Tony and Henry were going to get back together, or would he somehow get Lee to fall for him, or would he fall for Zev. I'm not sure, but I don't think that was the point of the book. It's not like I'm complaining or anything.
Grade: B