Valley of the Dolls
by Jacqueline Susann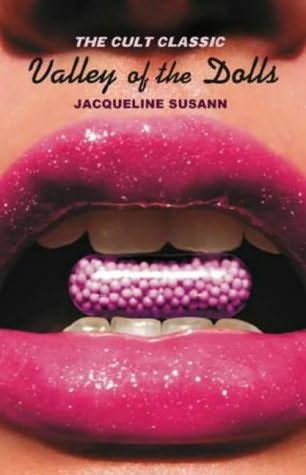 Reviewed by Coral
---
Anne hates the small town that she lives in. Hates the idea of marriage to a man she doesn't love, just because it's expected of her. So she moves to New York. And though her apartment may be small, she lucks out in other ways.
She's hired, almost immediately, by an agency who represents, amongst others, Broadway stars. She runs into a nice enough man one day at the office and starts dating him, not really liking him but sort of pitying him because he's always down on his luck, only to find out his family is one of the richest in the New York. Suddenly she's engaged to him without really wanting to be, but not really able to find a way to break it off.
And, to top things off, she finds herself making friends with Helen Lawson, a woman trying to make her Broadway comeback. Where everyone else sees Helen as a cold bitch, Anne sees her as a woman who has been hurt, but who is only looking to be loved.
Things start going wrong for Anne the moment Lyon Burke comes back from the war. Anne has always been looking for that one man to sweep her off her feet, and Lyon is him. But how much is Anne willing to sacrifice to get him and to hold onto him?
Neely O'Hara and Anne are friends, both renting rooms in a crappy apartment in New York. Neely thinks she's finally got it made when the Vaudeville act she's in with her brother-in-law and a friend get hired to appear in Helen Lawson's comeback show, Hit the Sky. Unfortunately for Neely, her brother-in-law waits until the first rehearsal to tell her she's been cut from the act.
Lucky for Neely that when she shows up at Anne's office to share her pain, Lyon overhears and negotiates her a bit part in the show. And even luckier for her that Anne is friends Helen so that when another actress steps into Helen's limelight, Neely finds herself as the show's supporting actress.
Suddenly Neely is a rising star with offers from Hollywood. But can Neely survive her new-found fame? Or will she lose herself to it?
Jennifer North has arrived back in the States looking to annul a marriage to a Prince who she found out wasn't as rich as he let on. Her agency - where Anne works - gets her a bit part in Hit the Sky. She has no real talent, but she has the looks that people are looking far. They're all hoping she'll be able to land a modeling contract.
What people don't know is that Jennifer isn't as young as she says she is. She needs money to support her mother and grandmother, and if she can't make it herself she's more than willing to marry a man rich enough to do it. But she also wants to find love, as unlikely as she thinks that is. But when she does find love, is it truly worth the sacrifice she's asked to make?
I read this book based on the recommendation of friends. The same friends who recommended Choke and Lullaby to me. Thankfully this book was nowhere near as bad as those books. Actually, overall it was a decent enough book.
I knew when I started reading that it was about drugs and that dolls = pills. So I was reading mainly for the train wreck aspect of it. Which was a good thing, because while it was interesting to read the characters slowly make it to the top and then screw everything up, the characters themselves really didn't evoke much interest or sympathy in me.
The ending to Jennifer's story line really seemed to come out of the blue. To me, given her story up until that point, it didn't really make that much sense.
Anne kind of annoyed me by the end of the story. Didn't feel sorry for her at all. By the end she's almost a complete doormat.
Plus the story requires some moments of suspended disbelief, mostly parts at the beginning, with Anne, about how she just happened to get the job and meet the rich guy and befriend Helen.
Still, a decent book overall.
Grade: B