Hidden Warrior
by Lynn Flewelling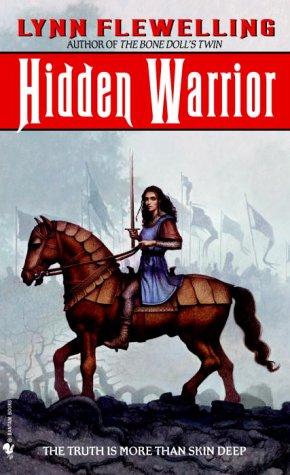 Reviewed by Ruby
---
The last book ended with Tobin seeing his true face. His female face. Now he knows the secret of his birth, and the great danger for everyone who knows. It is because of that danger that he keeps it from his two greatest friends, Ki and Tharin.
'Brother', the ghost that haunts Tobin, is becoming increasingly more violent. He hates Ki and both he and Tobin assume that Brother attacked Ki. In reality it was Arkionel, who almost killed Ki, to keep from finding out Tobin's secret. Luckily the wizard couldn't do it, but kept it all to himself. Brother also attacks and kills Tobin's protector. He did it to save Tobin, but Tobin will never forget the destruction he is capable of.
As life goes on for the Companions, an uneasy truce is called in the war, enabling the King to return home. For the first time in years, Tobin sees his uncle, and is happy to be loved by the man. Before long he sees the insanity behind the kind eyes. As more wizards and priests are burned for treachery, Tobin sees that things are not right. He knows that his cousin Korin will not be able to lead the kingdom (too much drinking and sleeping around and that nasty habit of freezing in battles) but is not convinced he will be able to either, even when the queen in him is revealed.
I knew the whole 'wizards hunting wizard' thing would be more important in this book. I still haven't figured out why I don't like that kind of plot. At least it's done better in this book than in some other ones I've read. I hope it won't continue too much in the third book.
This book wasn't as spectacular as the earlier books written by Lynn Flewelling, but it was still a great book. The middle was... I really don't want to say boring, because it wasn't, it just wasn't as exciting as other parts in the book. It was all about Tobin growing up in the Companions and his feelings for Ki that are thrown into confusion when he discovers that he's really a girl. When Ero gets attacked, and everyone knew that was going to happen, in the last hundred or so pages, is when it gets really good.
Grade: B