Luck in the Shadows
by Lynn Flewelling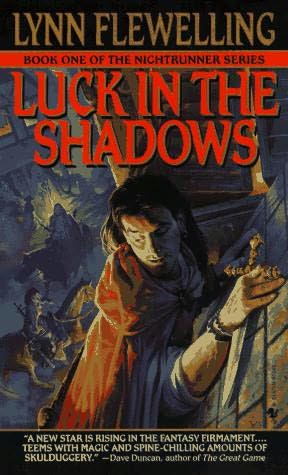 Reviewed by Ruby
---
I would just like to point out that Lynn Flewelling is my new favorite author. Within the first few pages I was hooked.
This book starts out with two shady characters in a swamp doing shady things. Mardus and Vargűl Ashazai have found ancient disks. Important disks that they are quite willing to kill for. From there we are taken to a small cell where Alec of Kerry is currently being held for a crime he didn't do. Tortured and about to be sold to slavers Alec is wishing for death.
He got something completely different. Seregil, a second prisoner helps Alec escape from the horrors of the prison. With nowhere to go, no family to help and winter fast approaching, Alec is unsure how he will survive. The answer is quickly revealed as Seregil needs a guide. On the three day journey Seregil is drawn to the boy and asks Alec to be his apprentice. With nothing to lose, Alec agrees.
Alec already knew that Seregil was a spy but he didn't know what kind of spy. Seregil was sent north to see about rumors of war and the two of them stumble upon Mardus. After stealing what looked to be an unimportant wooden coin, they head for Rhýminee: Seregil's home. Unfortunately, Seregil soon falls sick. Shocked by the bond between them Alec rushes to get Seregil back to Rhýminee and Nysander, Seregil's friend and a wizard. As the sickness worsens Seregil lapses into hysteria and violent bouts and finally unconsciousness. Racing against time Alec can only hope that Nysander can help them.
All that in only the first 150 pages. It is when they reach Rhýminee that it gets even better, but that's for you to read and to find out.
This book is filled with fascinating characters, rich settings, in depth history, slashy overtones and an excellent plot that will keep the pages turning until you reach page 479 and realize that's the end. Then you have to go tearing into your room, searching until you've found the second book.
A MUST READ!!
Grade: A
Reviewed by Coral
I promised Ruby I would read this series - one of her favourites - a long time ago, and they finally made it through my pile of books!
I enjoyed the book, though maybe not as much as my sister.
I thought that the characters were enjoyable enough and the plot was interesting. I think my main issue had more to do with the plot's pacing, which I found really slow. It seemed like there were long stretches of the book where no a lot was happening.
Still, overall, I liked the book.
Grade: B