Traitor's Moon
by Lynn Flewelling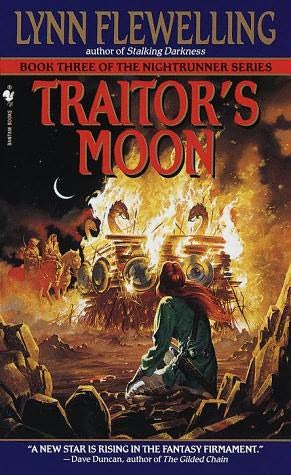 Reviewed by Ruby
---
Beka has a message for Seregil, one he's been hoping for and dreading for years. Now all she has to do is get him and Alec to leave their self-imposed exiled. The queen has asked for their help with the AurŽnfaie. The war is going badly and help from the Faie is needed. Unfortunately most of them don't want to give it. Now Seregil must travel back to the homeland he was banished from to work with people who hate him.
Caught between two different people, both of whom Seregil has ties to, he and Alec must contend with betrayal, bigotry, murder and politics to reach their goal.
Seregil and Alec are lovers in this book. The proper word is 'talžmenios' or soul bonded. I was a little depressed to see that this book was set two years after the end of the second book. I was hoping to read the first few tentative steps in Alec and Seregil's relationship. Nothing elaborate, maybe just a few paragraphs. But it wasn't to be.
Oh well. This was still a great book. It brings us into a new world so unlike the first two books and yet just as real and memorable. There are many more characters introduced in this book, some you love, some you hate and some that could go either way. It leaves you itching to have a fourth book.
Grade: A
Reviewed by Coral
Again, I have to say, that this book also suffered from bad pacing. There was a whole middle section were things were just dragging along before, finally, something happened near the end that jumped started everything else.
Despite the slow pacing, I did enjoy the book. I liked learning more of Seregil, even if I now think he has some deep seeded issues that need to be fully addressed. What I don't like, is that he's still shutting out the people who care about him.
There were some interesting little bits of information that felt like they were setting something up, but with no resolution in this book, so I guess they'll be picked up in book 4.
Grade: B