The Warrior Queen
by Alan Gold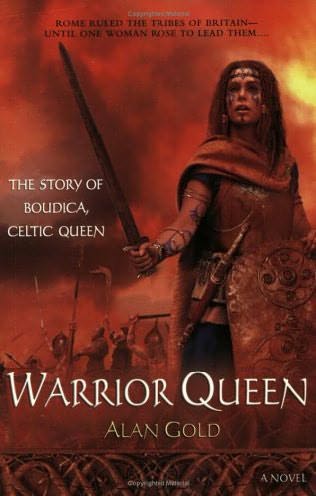 Reviewed by Coral
---
As a young girl, Boudica dreamed of riding Britain of the Romans. But, as an adult, she finds herself married to one of Rome's biggest allies in Britain, and starts to see the good that the Romans can bring to her people. Though she will never forget the suffering the Romans have caused - and are still causing - in her land, Boudica also starts to realize how fighting them will only bring further pain to Britain and learns to accept things as they are.

That is until her husband's death and the overwhelming taxes due to Rome lead to a brutal betrayal of everything that Boudica thought had been built. Now, with rage and revenge her foremost thoughts, Boudica will use everything she's learnt from the Romans to unite and lead her people against them, to drive them once and for all from Britain's lands.

I think the main issue I had with the book is that it tried to do too much. In trying to tell both Boudica's story and the political machinations happening back in Rome, it felt like the story was rushed and that there were parts of the story missing. And, because of that, some of the characters (Boudica's husband and stepson foremost amongst them) felt under-developed.
If the author wanted to tell story of both Britain and Rome then the book should have definitely been longer. As it was, I don't think the Rome chapters added all that much to the story; there certainly wasn't a great need for them, although I will admit to finding the last lines of the book (in a Rome chapter) oddly fitting for the story.
(And, if I had remembered that I had previously read a book by this author when I started it, I probably would have had lower expectations.)

Grade: C