When the Bough Breaks
by Jonathan Kellerman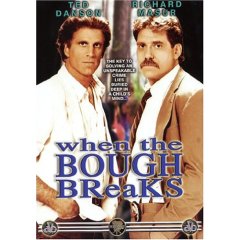 Reviewed by Coral
---
This might be the first book in the Delaware series, but the first Kellerman book I ever read was Private Eyes, which I picked up without realizing it was part of a larger series. I liked that book, liked the characters and was ready for more of the same in this book.
Weirdly enough, the series starts out with a plausible explanation for Alex's inclusion in the mystery (it won't last) as the only witness to a brutal double homicide is a terrified 7-year-old girl. Milo needs Alex's help if he is to learn anything from her.
The case is suspenseful, though Kellerman once again falls into the cliché trap of bad guy inexplicably offering up his motive instead of shooting those pursuing him.
As an added bonus we get a pretty detailed account of how Alex and Milo first met - when a man commits suicide in Alex's office - and how their friendship began.
On the negative side, I can honestly say this is the book when I started hating Alex. He and Robin are a new couple in this book, dating for a few months, though they consider it a serious relationship. So what does Alex do? He makes out with a woman and sticks his hand down her shirt to play with her nipples. Adulterers are not people to be admired.
This is also the book when I started liking Rick, for no other reason than because he sounded hostile to Alex in their first of many phone conversations. And I'm all for hating Alex.
Grade: B