McClairen's Isle: The Reckless One
by Connie Brockway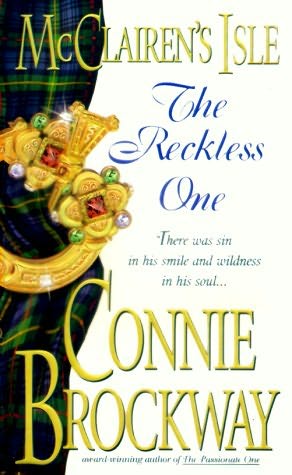 Reviewed by Coral
---
This is book two in Connie Brockway's McClairen Isle trilogy, and it's even better than the first. Okay, I may be a little biased, because I loved the character of Raine Merrick before I ever picked up this book - the boy abandoned by his father and left to rot in prison really worked up my sympathy the last go round.
Again, it's everything typical in a romance novel, but I'm starting to think that, with a good writer, that may not be such a bad thing. And, along with watching Raine and Favor find their stumbling way into each other's hearts and beds, we can learn the truth behind all the stories of Raine and his misdeeds told in the last book, see more of the madness that dwells inside Ronald Merrick's heart, and watch Fia as she tries to make her life her own.
So, if you're looking for a good read, and a good escape from reality, this is definitely a book for you.
Grade: A