Flesh and Blood
by Jonathan Kellerman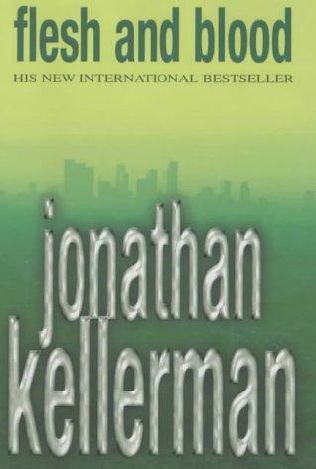 Reviewed by Coral
---
Lauren Teague, a short-term ex-patient of Alex's, and then a stripper he saw at a colleague's bachelor party, has been found, murdered, just days after her mother called Alex, worried, because she'd been missing for a week. Now, Alex and Milo must investigate the dangerous sex-trade world she'd gotten involved with, and break through the secrets that have enveloped her life. For some reason, this death affects Alex more than any other and he is unable to back away from the more dangerous aspects of the case, endangering both his relationship with Robin and his own life.
I want to say that this isn't a bad book, but I can't. It's not that the mystery aspect of the story is bad, it's one of the more enjoyable stories in that regards. There are just a few minor details that added up to an annoying story. And here those reasons are, listed in no particular order:
1) Why is Alex so obsessed with this case? Lauren wasn't even a long-term patient. He saw her professionally twice and naked once. Why is he so willing to destroy his life for this case rather than any of the others we saw? I never got a believable answer to that one.
2) The ending was rather far-fetched to me, though I can't explain how without giving it away.
3) Alex the horn-dog from When the Bough Breaks and Silent Partner is back.
4) The portrayal of Milo and Rick's relationship, in contrast to Alex and Robin's relationship really bothered me in this book. Milo's barely had a pleasant thought about Rick, starting way back in Silent Partner. And I know that it's been going on for a dozen or so books, but this one was just too much. I'm supposed to believe that while Alex and Robin have sex at the drop of a hat, that Milo and Rick don't even talk to each other while they go out for drinks at a bar. Beyond ridiculous.
Grade: C